Why You Should Choose Us to Buy a Used Car
Posted Monday, May 22, 2023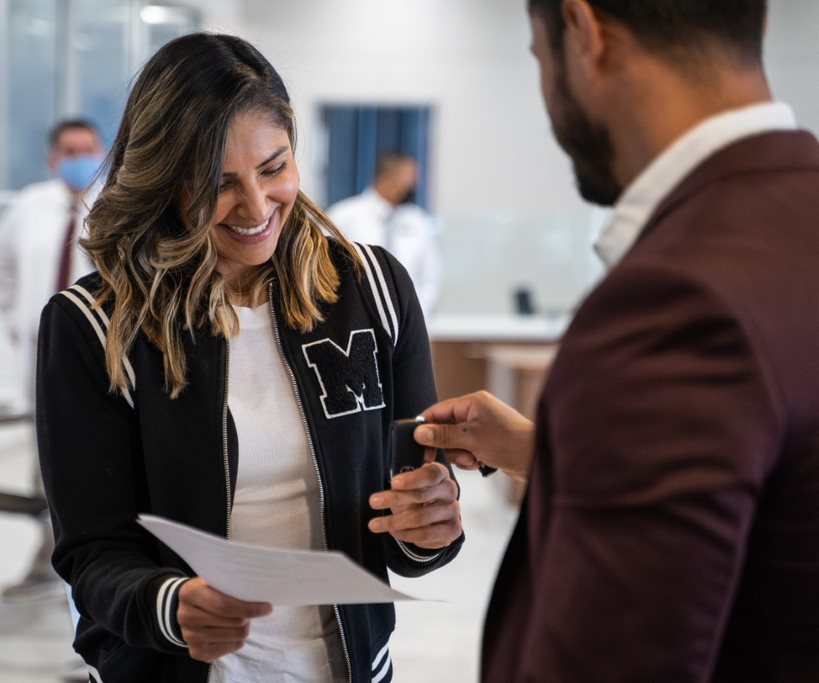 We Buy and Sell Cars for You - Here's Why You Should Choose Us
So, you finally feel ready to buy a used car in New York but don't know where to start. There are so many used car dealerships near you and tons of options to choose from that it can be slightly confusing. It can be psychologically crippling when one is faced with too many choices at once. We've rounded up nine reasons why Budget Autos may be a better fit for your car-buying ambitions.
9 Reasons Why You Should Choose Budget Autos, NY
1.  No Pressure to Buy
Most buyers usually check out their options before spending their money. And we are ready to help you every step of the way, even if you're not ready to buy yet. Our trustworthy salespeople will happily walk you through the process without placing any pressure on you to decide on the spot.
This indicates that we are primarily driven by helping our end-users get what they want. Take if you need to decide before spending your money.
2.  We are More Than Happy to Answer All Your Questions
Our sales team puts customer service front and center throughout our dealings with buyers. There's no such thing as a bad or stupid question. You can share any concerns you have with our staff, and we will gladly answer them. In fact, we encourage asking questions to clear up any doubts you may have about the car.
Everyone wants to make sure they are getting their money's worth. And asking questions is part of the process. If a used car dealership isn't willing to answer your questions, that may be a huge red flag.
3.  Vehicle History
You're taking a huge leap of faith when buying a used car. After all, you don't know what the car has been through with its previous owner. This is why you will get access to the car's vehicle history, including information about past ownership, odometer readings, repairs, major accidents, recalls, and others.
The vehicle history will help you make more informed decisions about the car instead of taking our word for it. Our trustworthy salespersons want to be transparent and will show you these documents to ensure you are getting your money's worth.
4.  A Wide Range of Cars
You might be set on buying a hatchback but decide later that a four-door sedan might be a better option for you. Most buyers will change their preferences for what they want from a car. Their preferences will be molded mostly by their lifestyle, choices, and personal goals. This is why Budget Autos LLC has many cars to help you choose from.
Our salespeople will also assist you in picking a vehicle that aligns with your goals. We recommend creating a list of must-haves you need in a car to help narrow your field of choices.
5.  A Stellar Reputation in the Community
At Budget Autos, we have a reputation to maintain in our community. This means ensuring you only get the best possible deal is in our best interest.
Most people are skeptical about trusting dealerships because of horror stories coming out of the community. It is always a good idea to check online reviews to gauge the level of customer service you can expect from the dealership. Most used car dealerships will have online reviews unless they just opened a shop.
Our dealership is built on trust, integrity, and transparency. Our team takes great pride in upholding these values to ensure that our customers keep coming back!
6.  Warranties
Warranties are a clear indication of their confidence in providing high-quality cars to their customers. There is no set number for how long a used car's warranty should be. However, it should make you feel comfortable spending money on the vehicle. It is worth noting that the warranty will depend on the car's age.
Just because a dealership isn't able to provide a 10-year warranty on a car doesn't mean you can't trust them.
7.  Accessible Website
Like most people, you probably used search engines like Google to find car dealerships near you and stumbled on Budget Autos. The website often serves as one of the first touch points for a business, and Budget Autos is no different. We spend considerable thought on how the website is designed, including how fast it loads, the car menu, and our helpful blog page.
You can find your favorite car by visiting the Car Finder menu and learning all your payment options under the Payment menu.
Utilize the "Quick Search" feature for a swift and efficient way to locate your desired car's make, model, and body type. Other filters include price and mileage. All these features are designed to make your car-buying process as seamless as possible.
8.  Have Good Connections with Lenders and Financing Companies
Now that you have selected a vehicle, it's time to take stock of your buying options. You could buy the car outright in cash or explore financing options. At Budget Autos, we maintain an extensive network of lenders who will provide you with transparent payment plans and clearly explain your options.
Getting approved for financing is very easy because our lenders can accommodate various financial situations. Simply fill out our form here, and our experts will get back to you with all your available options. Our goal is to secure the best possible deal for your auto loan.
9.  Test Driving the Car in NY
Test driving the car allows you to get a feel for the car's interior and exterior, including how the engine responds, whether the transmission works smoothly or not, and if the brakes work as they should.
When you visit us and find a car that catches your fancy, you can take it for a test drive. This will give you the peace of mind that you're getting what you're promised.
Wrapping Up
So, there you have it, a quick look at why Budget Autos is the go-to solution for all your car-buying needs. For more information, visit our website here, and our experts will reach out to you at the earliest.