Car Financing – Helping Customers Get Financed
Posted Tuesday, Apr 18, 2023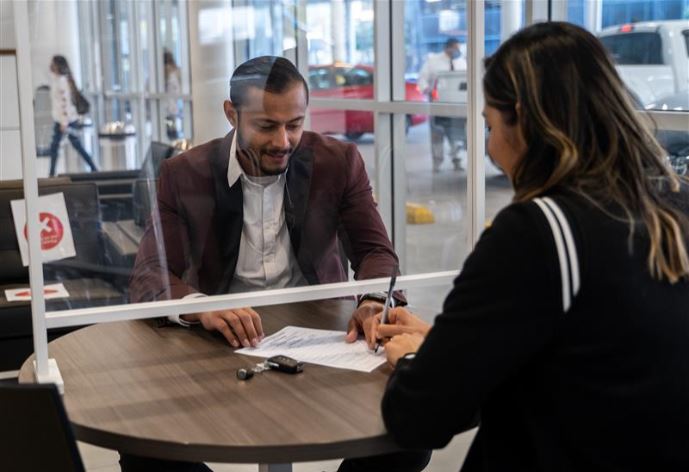 More and more Americans are falling behind on their car payments, and the numbers are only increasing. According to a report by Fox News, people living paycheck to paycheck are also unable to afford other basic necessities. About 72% of middle-income families have earnings that fall behind their needs. In these testing times, it is almost impossible to afford a vehicle. This guide will introduce you to car financing and how it can help you afford a vehicle.
What Happens When You Finance a Car?
Financing a car essentially means that you're taking out a loan to pay for the vehicle. Here's a step-by-step breakdown of what happens when you finance a car:
Find a Car You Want to Purchase: You can do it through a private seller or a dealership.
Apply For Car Financing: Once you've found the right vehicle, apply for financing. This is when you'll provide your personal and financial information, such as your employment details, credit score, and income.
Get Approval: At this stage, you may receive approval if you meet the lender's needs. These needs can revolve around the loan duration, monthly payments, and interest rate.
Make a Down Payment: Before you can take possession of the car, you'll need to make a down payment. This is typically a percentage of the total cost of the car.
Sign the Loan Agreement: Once you've made your down payment, you'll sign a loan agreement that outlines the loan's terms.
Take the car's possession: After you've signed the loan agreement, you'll take possession of the car. You'll be responsible for making the monthly payments on the loan until you've fully paid it off.
Financing a car entails that you're not only paying the vehicle's cost but also the interest on it. This interest can accumulate over time. So it's important to understand the terms of the loan before going ahead with it.
Why Are People Struggling to Finance Their Vehicles?
Car financing difficulties are a common problem for many people in America. It's especially true for those with poor credit scores or limited financial resources. Several factors contribute to the difficulty of obtaining and repaying car loans.
Furthermore, cars are depreciating assets, which means that their value decreases over time. This can make it difficult for borrowers to sell or trade in their vehicles if they run into financial difficulties. The value of the car may not be enough to cover the outstanding loan balance.
Subprime lending practices are another problem. Some lenders specialize in subprime auto loans, which are intended for borrowers with bad credit. These loans frequently have high-interest rates and other fees. They are often marketed to people with few other options for financing a vehicle.
There are also other factors that have contributed to a general struggle with loans. First of all, rising interest rates have affected affordability. At the end of 2022, people paid an average of 6.5% interest on a new car loan. Then, car prices also soared. Lending standards have further affected people's ability to get car loans.
Overall, car loan difficulties in America are a complex issue with severe implications for borrowers who can't make their payments. When financing a vehicle, consumers must carefully consider their options and seek out lenders who use reasonable and open lending practices.
How Can You Improve Your Chances Of Getting a Loan?
There are many ways to improve your chances of getting an auto loan. Some of them include the following:
1.      Improving Your Credit Score
The most important factor that lending institutions consider for car financing is your credit score. You can check your credit score for free and improve it by paying bills on time, paying down debt, and disputing any possible errors.
A good score generally usually above 670. A very good score is over 740. Scores above 800 are exceptional.
2.      Showing a Steady Income
Lenders want to know that you have a stable source of income that can cover your loan payments. You may have to provide documentation such as pay stubs, tax returns, or bank statements to prove your income.
3.      Offering Collateral
Some lenders may be willing to approve your loan if you offer collateral. The collateral can be in the form of a car, house, etc.
4.      Shop Around
It is advisable not to apply for the initial loan that you encounter. Shop around and compare rates and terms from different lenders to find the best loan for your needs.
5.      Provide Accurate Information
Ensuring that your loan application contains accurate and comprehensive information is essential. Any inconsistencies or errors can hurt your chances of getting approved.
6.      Reduce Your Debt-to-Income Ratio
Lenders also consider your debt-to-income ratio. This is the amount of debt you have compared to your income. Paying down debt can improve your debt-to-income ratio and increase your chances of getting approved.
How Can Budget Autos LLC Help You Get Financed?
Car financing can be tricky, even if you meet all the requirements and are an ideal candidate. Thanks to our vast network in the dealership community, we have the capability to acquire a diverse selection of lease returns. We offer a range of auto financing options. It doesn't matter whether you have good or bad credit. Even if you have no credit financing, our team at Budget Autos LLC can help you get fast loan approval.
Conclusion
We all require flexibility when it comes to car financing options. The general economic downfall and rising inflation have only affected people's purchasing power negatively. From dealers to lenders, all institutions have intricate policies for loan approval. Failure to adhere to these policies can pose more problems for borrowers.
Through our experience and expertise at Budget Autos LLC, we ensure that you land the best possible financing deal. To learn more about our car dealership, budget car sales, and flexible financing options in Johnson City, New York, contact us now.